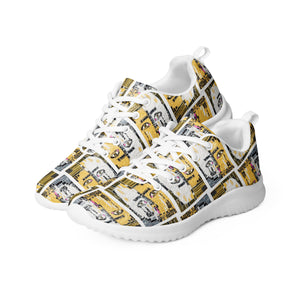 GLAMOROUS Men's athletic shoes
Stay active throughout the week with these uniquely-designed athletic shoes. They feature a soft, padded inside for maximum comfort and a rubber outsole for stability.
• 100% polyester ultralight flyknit
• Ethylene-vinyl acetate (EVA) rubber outsole
• Breathable lining
• Soft insole and a padded collar
• Lace-up front
Disclaimer: A strong glue smell is expected upon the product's arrival. Allow the shoes to air out for a couple of days and the smell will disappear.
Size guide
| | | | | | | |
| --- | --- | --- | --- | --- | --- | --- |
|   | US MEN | UK | EUROPE | JAPAN | FOOT LENGTH (inches) | OUTSOLE LENGTH (inches) |
| 5 | 5 | 4 | 37.5 | 23 | 9 ⅛ | 10 ½ |
| 5.5 | 5.5 | 4.5 | 38 | 23.5 | 9 ¼ | 10 ½ |
| 6 | 6 | 5 | 38.5 | 24 | 9 ½ | 10 ¾ |
| 6.5 | 6.5 | 5.5 | 39 | 24.5 | 9 ⅝ | 10 ¾ |
| 7 | 7 | 6 | 40 | 25 | 9 ¾ | 11 |
| 7.5 | 7.5 | 6.5 | 40.5 | 25.5 | 10 | 11 ¼ |
| 8 | 8 | 7 | 41 | 26 | 10 ⅛ | 11 ¼ |
| 8.5 | 8.5 | 7.5 | 42 | 26.5 | 10 ¼ | 11 ¾ |
| 9 | 9 | 8 | 42.5 | 27 | 10 ½ | 12 |
| 9.5 | 9.5 | 8.5 | 43 | 27.5 | 10 ⅝ | 12 |
| 10 | 10 | 9 | 44 | 28 | 10 ¾ | 12 ½ |
| 10.5 | 10.5 | 9.5 | 44.5 | 28.5 | 11 | 12 ¾ |
| 11 | 11 | 10 | 45 | 29 | 11 ¼ | 12 ¾ |
| 11.5 | 11.5 | 10.5 | 46 | 29.5 | 11 ½ | 13 |
| 12 | 12 | 11 | 46.5 | 30 | 11 ¾ | 13 ¼ |
| 12.5 | 12.5 | 11.5 | 47 | 30.5 | 11 ⅞ | 13 ½ |
| 13 | 13 | 12 | 47.5 | 31 | 12 | 13 ½ |